How to Extend Confinement Nanny Social Visit Pass
Due to Covid-19 pandemic, Malaysia has implemented Movement Control Order (MCO) since 18 March 2020 causing aunty unable to go out from Malaysia. So far, MCO has been extended thrice and we are still not sure whether it will be further extended. As a result of that, your freelance confinement nanny is unable to enter Singapore. Even if Malaysia side ended the MCO, there will be a lot of hassle to deal with by trying to bring her in.
Your freelance nanny that stuck in Malaysia might give a pass to job or refer you to their peer in Singapore. Yes, you can still engage their peer that still in Singapore. However, you might face some issues such as do not know how to apply nanny's permit and extend social visit pass due to unemployed gap between their existing client and your EDD. For example, they might serve their current client until
10 April 2020 (where permit & white card ended) but your EDD could be 17 Apr 2020. To make the matter worse, existing client might not want to extend social visit pass for your nanny until your EDD. In the end, all you want is a peace of mind and give birth.
** Due to overwhelming requests from Mums, Homey Confinement
now provide Permit Application and Social Visit Pass Extension service as well as bringing your nanny from Malaysia to Singapore.
Confinement Nanny Permit & Social Visit Pass can only be maximum of 16 weeks from baby date of birth, after that you would need to convert them to babysitter work permit.
Kindly call or WhatsApp us at +65 9392 3100.
Your Confinement Nanny Social Viss Pass is expiring very soon?
Don't want your Confinement Lady travel in and out to renew the Social Visit Pass?
You can extend easily through MOM FormSG it with required documents.
If you did not engage any confinement nanny agency, then you need Do-It-Yourself(DIY). Below are the step by steps on how to extend Confinement Nanny Social Visit Pass.
1) Extend Your Confinement Nanny Work Permit First
2) Gather All The Required Documents
Disembarkation Card Photo Front & Back (To be uploaded later)
Photo of Confinement Nanny Passport (To be uploaded later)
Confinement Nanny Work Permit PDF (So that you have Nanny FIN number)
There are total 15 field to be filled up

Choose I am "The Employer"
Your Full Name
Your Email Address
Your NRIC or FIN
Your Local Contact Number
Nanny FIN Number
Nanny Passport Number
Nanny Work Permit Expiry Date
Nanny Social Visit Pass Date of Issue
Number of days granted by Immigration Checkpoint Authority (ICA)
Disembarkation/Embarkation card number
Nanny last days of Employment
Upload Nanny Front & Back Disembarkation/Embarkation card
Tick Declaration and Submit
3) Go to FormSG of MOM-Extend Confinement Nanny Nanny Visit Pass
4) Select I am "The employer"

Select "The employer" and click submit
"Submitting on behalf of the employer" is for agency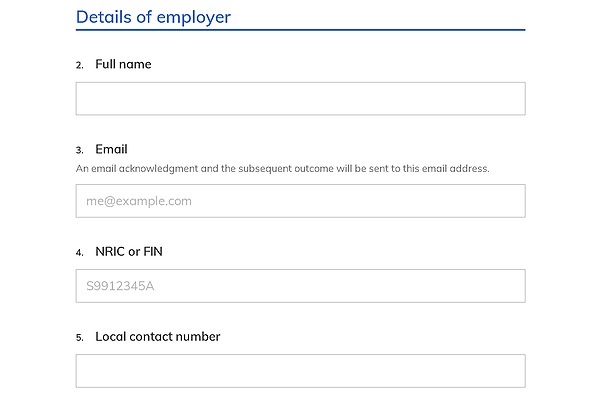 Fill in all the detail above
Email required so that you can receive the Social Visit Pass Extension Letter
NRIC or FIN so that MOM able to retrieve and check you detail
Filling Singapore contact number very important as MOM Officer able to call you directly if information provided insufficient
6) Confinement Nanny Details
All the information are required as per Confinement Nanny Permit or Extended Confinement Nanny Permit letter
Work Permit expiry date will follow latest expiry date. If you extend your confinement nanny permit, then will follow the new date
7) Confinement Nanny Visit Pass Details
Date of issue referring to date stamped on the white card
Immigration Officer will state how many days are allowed to visit Singapore on the white card too
On the white card, there will be Disembarkation/Embarkation card number
Extend her stay to referring to the end date of Work Permit
8) Confinement Nanny Visit Pass Details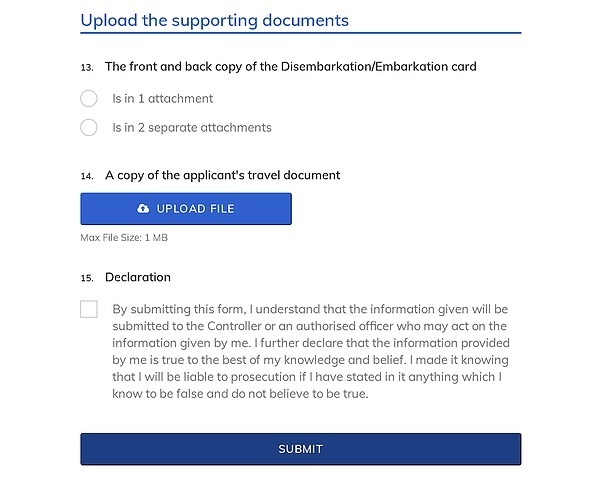 Most people will choose to upload front and back copy of Disembarkation/Embarkation card by "Is in 2 separate attachments" by taking photo of the front and back separately
Next, upload confinement nanny passport photo
Lastly, tick the Declaration and then Submit button
It will take 14 days to process. So extend as early as possible to avoid Nanny fined when exiting Singapore
Once approved, you will receive Extension Letter through email
Remember to send a copy to Nanny as she would need this document to exit
In short, Nanny would need
Work Permit (Helper's Copy) Letter
Work Permit Extension Approval Letter
Social Visit Pass Extension Letter