How to Apply Confinement Nanny Permit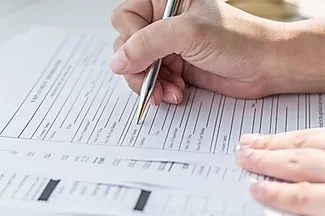 Have your own freelance confinement nanny? You can easily apply Confinement Nanny Work Permit yourself through the MOM confinement nanny application online portal or engage confinement nanny agency. MOM created a specific permit for Confinement Nanny work permit. First of all, you and your confinement lady must meet the MOM criteria. It will take less than 10 minutes to key in if you have all the information required. Once completed filling in the form, all you need to do is to pay $35. Processing time usually take within a week. Below is the step by step on how to apply for Confinement Nanny Work Permit.


After you get the permit approved (within the permit you will find "You should buy a medical insurance with a coverage of at least $15,000 per year to cover your nanny during the employment"), remember to purchase Confinement Nanny Insurance to safeguard yourself. As an employer, you are liable up to $15,000 for Confinement Nanny hospitalization bill. You can tag along with us to get this insurance with very minimal admin fee. Whatsapp us at +65939323100.
Confinement Nanny Work Permit only valid for 112 days (16 weeks) from baby date of birth, after that you would need to convert it to babysitter work permit.
If you are engaging day time confinement nanny Singapore, you also need to apply the permit.
1) Check Eligibility Criteria

Employer:
Be 21 years old and above at the time of application
Get Work Permit for your confinement Nanny
Have newborn under 4 months old
Maximum validity of Work Permit is 16 weeks from child date of birth
Pay a monthly levy

$60 (Singapore Citizen newborn)
$265 (non-Singapore Citizen newborn)

Confinement Nanny
be a Malaysian
Age 23 to 70 years old a the point of application
Work at your residence
2) Gather All The Information Below
Below are the checklist file of the information required
Fill this checklist then would be easier for you to key in to MOM Portal
Employer
You and your spouse NRIC/FIN
You and your spouse Passport (non Singaporean)
Your Singpass ID, password & mobile to receive OTP
Written consent from Nanny to apply Work Permit
Confinement Nanny
New Malaysian IC (BLUE color)
Malaysia Passport
Others Information
Info:
You and your spouse Full Name
You and your Date of Birth
You and your spouse NRIC/FIN
You and your spouse Passport Number
You and your spouse Passport Expiry
You and your spouse Nationality
You and your spouse Residential Status
Marital Status
Your mobile number
Your email
Your Residential Address
Info:
Full Name
FIN (optional)
Date of Birth
Passport Number
Passport Expiry
Malaysia IC Number
NRIC Color
Birth Place
Immigration Pass
Religion
Ethnic Group
Highest Education Level
Marital Status
Spouse Residential Status
3) MOM Confinement Nanny Application Site

Key in your SingPass ID and Password then click Login
Fill in your OTP received from your mobile then click Submit

Click Apply for a Helper or Nanny to proceed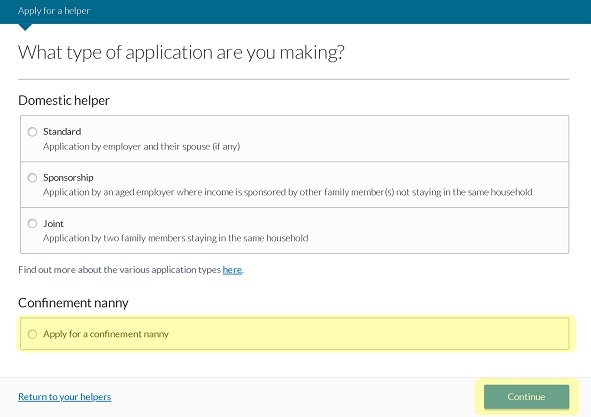 Select Apply for a confinement nanny
Then click Continue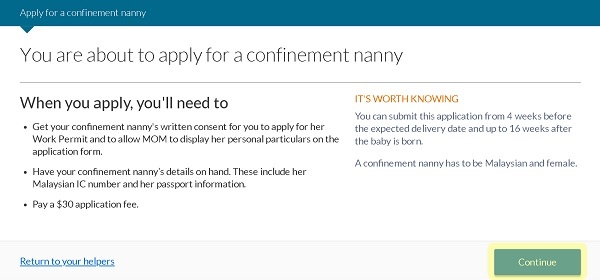 Read through the requirement
Click Continue
8) Your Confinement Nanny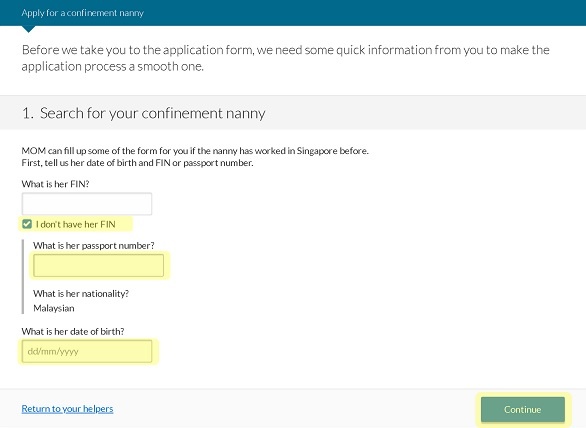 Fill in Confinement Permit FIN (if you have) or her Passport Number and Date of Birth
Most nanny would not know their FIN number
So, click I dont have her FIN so that you can key in her passport the click Continue to proceed
9) Your Confinement Nanny Details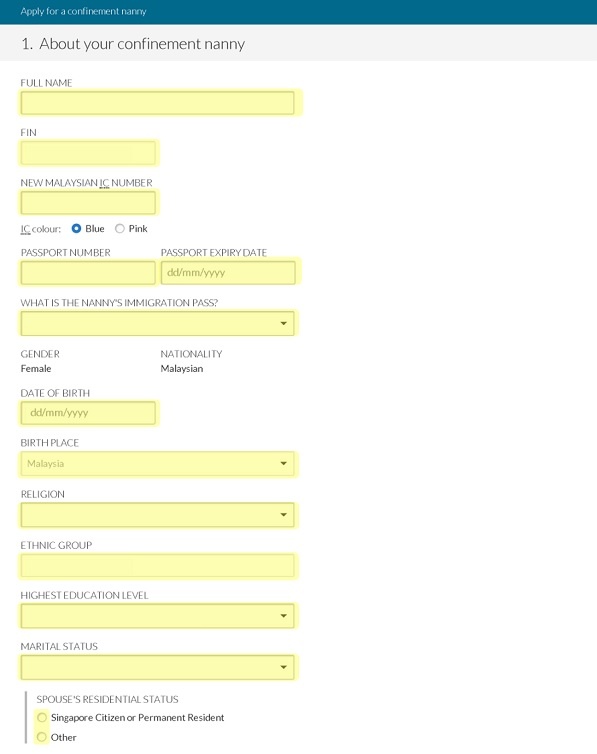 If your Confinement Nanny worked in Singapore before, most information will be auto-filled up
If she is new, you can use her Passport & Malaysia NRIC to fill in most information except:

Birth Place
Religion
Ethnic Group
Highest Education Level
Marital Status
Spouse Residential Status
Immigration Pass

As for Immigration Pass, Disembarkation/ Embarkation Card (White Card) is known as Social Visit Pass. Commonly used by Nanny to enter Singapore
Then scroll down to fill in Employment info
Below are the example of Social Visit Pass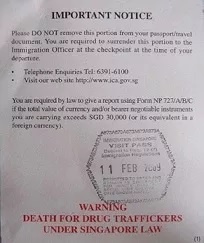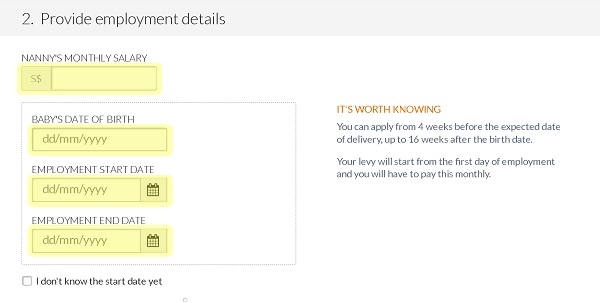 Fill in Nanny's Monthly Salary and Baby's Date of Birth
Employment Start and End Date will depend on the service agreement between you and the Confinement Nanny
Employment Start Date usually will be on you and baby discharge day (Natural Born 3rd day while C Section 4th day)
Maximum allowed Employment End date is 16 weeks (112 days) from Baby Date of Birth
A lot of employers and Confinement Nanny mistook Work Permit allowed date with Social Visit Pass allowed date
If Work Permit End Date is within Social Visit Pass Date, then would not need to extend Social Visit Pass
If Work Permit End Date is more than Social Visit Pass Date, you can:

Request Confinement Nanny to go out to JB and come back in again with N number of days allowed by ICA officer. The main issue with this method is you and your baby will be left alone for short period. It will be tiring for confinement nanny to travel out and in as well. Only useful when last minute decided to extend her Work Permit
Extend Social Visit Pass through MOM FORMSG. This method takes time to process but at least, you will not have uninterrupted confinement Nanny Service. Check out how to DIY on Extend Confinement Nanny Social Visit Pass using MOM FORMSG

Usually, an extension of Social Visit Pass required when:

Confinement Service more than 30 days
Confinement Nanny was in Singapore before even the Confinement start
Last minute decided to extend Confinement Nanny Service

Confinement Nanny will be stopped from exiting and penalized when she stayed longer than permitted Social Visit Pass day even though Work Permit Date is longer. It is a common mistake.
11) You and Your Spouse Details
Key in you and your Spouse NRIC information accordingly
You are only required to fill in passport information when you are non Singaporean or Singapore PR
Key in:

Mobile Number
Email
Residential

Read the criteria and agree
Tick and Click Continue to proceed
13) Payment Through Visa or MasterCard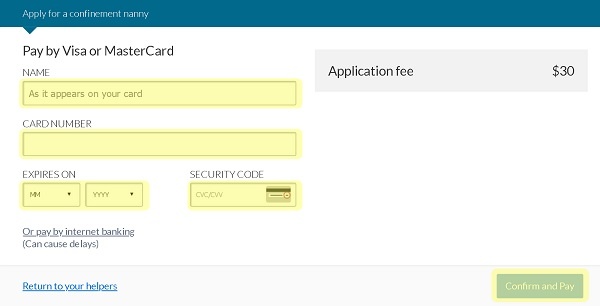 Pay $35 through Visa/MasterCard (1st April 2019 onward, there will be an adjustment in the fee)
Key in Name, Card Number, Card Expiry Date & CVC/CW code
Click Confirm and Pay to proceed
14) Acknowledgment of Your Application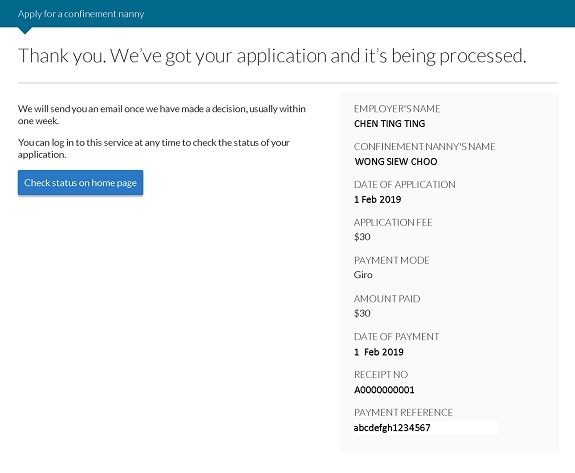 Once payment successfully goes through, you will see acknowledgment screen above about your application been received and processed. You will receive an email about the acknowledgment as well
Within a week, you will receive your application result
15) Check Your Application Status

Go to MOM Work Permit Application site to check the Work Permit Application Status
It is the same site you apply Confinement Nanny Work Permit
Click Log in with SingPass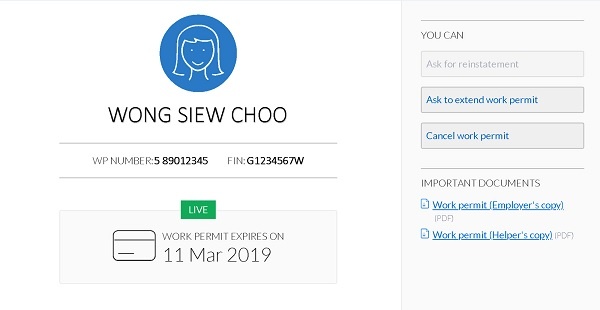 You will encounter this error message when you try to apply Confinement Nanny Permit if:

Confinement Nanny is currently employed with another client at the point when you are applying
The previous Employer Work Permit End date has not expired

Solution is to:

Wait Confinement Nanny completed serving the existing employer
Request previous employer to Cancel the Nanny existing work permit if the service already end
Remember to get your Nanny covered with confinement nanny insurance throughout the period. By the law, you are liable up to $15,000 hospitalization bill if there unfortunate things happen. 
Lastly, do not forget to go gynaecologist and obstetrician to do pre-natal checkup. All the best with your pregnancy. 
Check out the market rate of agency or freelance confinement nanny price or click ASK PRICE button to know our confinement nanny rate.